We are very proud to announce that our student of BBA,  Ms.Varalakshmi has secured 5th Rank for the whole of Bangalore University. She has been honoured by the Vice Chancellor of Bangalore university Dr. Venugopal K R for her extraordinary achievement.
photo of honouring of Varalakshmi
The college continuously strives to get good percentages in Degree as well as Pre University courses. The following is the list of Toppers in various classes for the academic year 2018-19.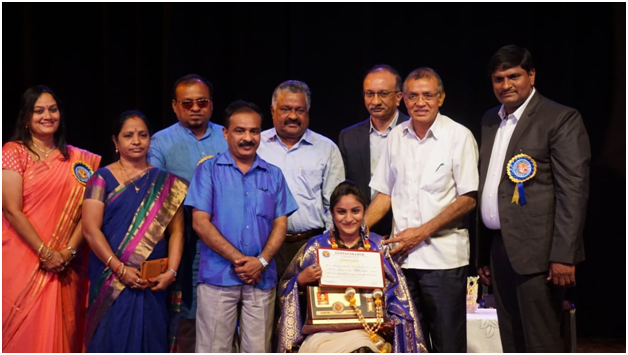 STUDENT TOPPERS LIST 2018-19
S.No
CLASS
STUDENT NAME
1.
I PUC- Commerce
I PUC- Science
Krithika. U
Anjali. S
2.
II PUC Commerce
II PUC- Science
Niveditha
Arun Kumar Y
3.
I Sem B. Com
II Sem B. Com
III Sem B. Com
IV Sem B. Com
V Sem B. Com
VI Sem B. Com
Priyanka R
Priyanka R
Prathap R
Prathap R
Bindushree U
Bindushree U
4
I Sem BBA
II Sem BBA
III Sem BBA
IV Sem BBA
V Sem BBA
VI Sem BBA
Sadhana KM
Sadhana KM, Deepika P
Seema KN
Hemaprashanthini MR
Ramya B
Ramya B
5
I Sem MFA
II Sem MFA
III Sem MFA
IV Sem MFA
Swapnika G. Sharma
Swapnika G. Sharma
Sahana
Niharika C